During his campaign and right up to his 2019 SOTU message, President Trump has declared NAFTA as a disaster for American workers. NAFTA is the North American Free Trade Agreement.
Bill Clinton gave away the ranch on that one. Trade deficits started growing before the ink was dry on that document and has risen by 600% since it's inception. The United States lost over 1 million jobs because of the deal that was cut.
Only under Trump has manufacturing begun to pick up thanks to the cut in corporate taxes. Companies now have the money to buy equipment and hire workers and unemployment is only 4%.
Likewise, the vast elimination of working and middle-class jobs due to NAFTA has coincided with a nearly 600 percent increase in U.S. trade deficits.
Nearly a million American jobs have been certified by the federal government as being lost directly due to NAFTA, according to data gathered by Citizen.org. These are only the U.S. jobs that the Trade Adjustment Assistance (TAA) program recognizes as being lost to free trade and does not indicate the actual number of jobs lost.
One former steel town in West Virginia lost 94 percent of its steel jobs because of NAFTA, with nearly 10,000 workers in the town being displaced from the steel industry.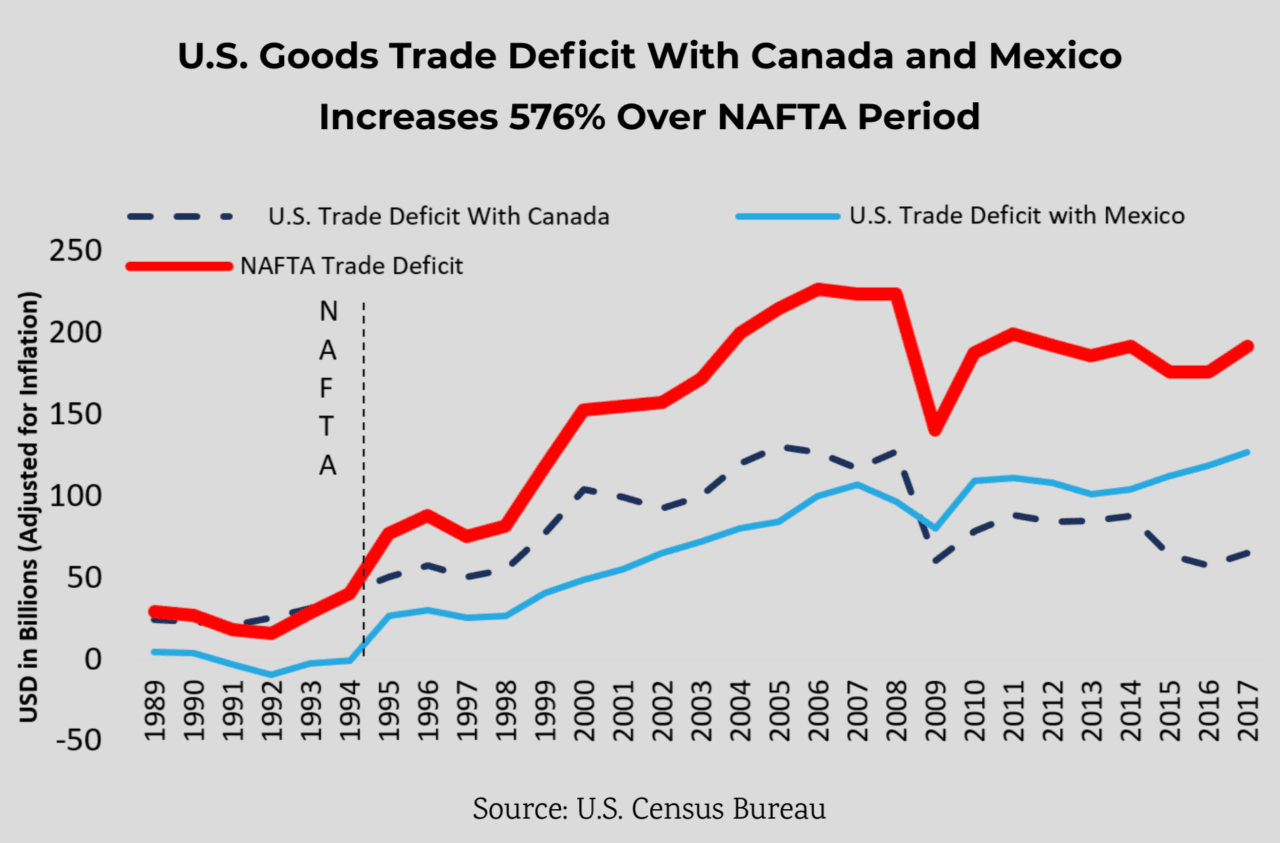 When it comes to U.S. wages, NAFTA has had a similar impact. As of 2017, about two out of every five American manufacturing workers who lost their jobs to NAFTA had their wages cut, Bureau of Labor Statistics data reveals.
"About one out of every four took a pay cut of greater than 20 percent," Public Citizen's analysis concludes. "For the average worker earning the median manufacturing wage of $39,500 per year, this meant an annual loss of at least $7,900."
The views and opinions expressed here are solely those of the author of the article and not necessarily shared or endorsed by SteadfastAndLoyal.com