So President Trump and Majority Leader Mitch McConnell gave a nod that they were going to drop the GOP version of Obamacare and call the "clean repeal bill" from 2015. However, there is some speculation as to whether or not this is a bad idea as it's not a "full repeal".
As written for ConservativeReview.com by Ildo Frazao:
After running around in circles for seven months, accepting the Democrat vision of health care as their own, and sabotaging our messaging on free market health care, will Republicans finally press the reset button and start over? Will they finally pass what they should have proposed in January without spending half the year making Obamacare great and popular again?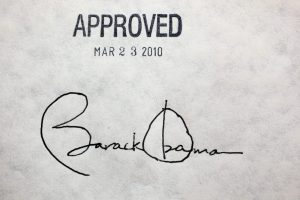 Late last night, both President Trump and Senate Majority Leader Mitch McConnell indicated that they would drop the GOP's version of Obamacare and call up the clean repeal bill from 2015. If McConnell's intent is to merely dispense with the bill and move on, then the 2015 bill, which is not quite full repeal, is a bad strategy. However, if this is being used as a clean shell to build out full repeal and a vision of consumer-driven health care (not just crony medical insurance) in an open and transparent amendment process, then it will be well worthwhile.
The good thing about the 2015 bill is that it makes no prejudgment on what will "replace" Obamacare, muddling and distracting from the immediate need to repeal the malignant law. It only contains repeal provisions, with a two-year delay for implementation. The only shortcoming of the bill is that it doesn't repeal the most important element — the actuarily insolvent regulations — but only the entitlements and the mandates.
In October 2015, I expressed opposition to the bill because my concern was that it would become the ceiling, not the floor, for repeal and that Republicans would use it as a baseline from which to codify Obamacare's regulations. Broadly speaking, that concern has been proven well founded, as Republicans have embraced guaranteed-issue, community rating, and the other core regulations that have not only sent prices skyrocketing, but created an unstable monopoly for the largest insurers.
However, now that this entire effort to pass phony repeal has failed, there is a great opportunity in starting over with the 2015 bill, which every Republican undeniably supported two years ago, and just adding the repeal of the regulations through an amendment.
2015 repeal bill an opportunity, if Republicans actually seize it